Mission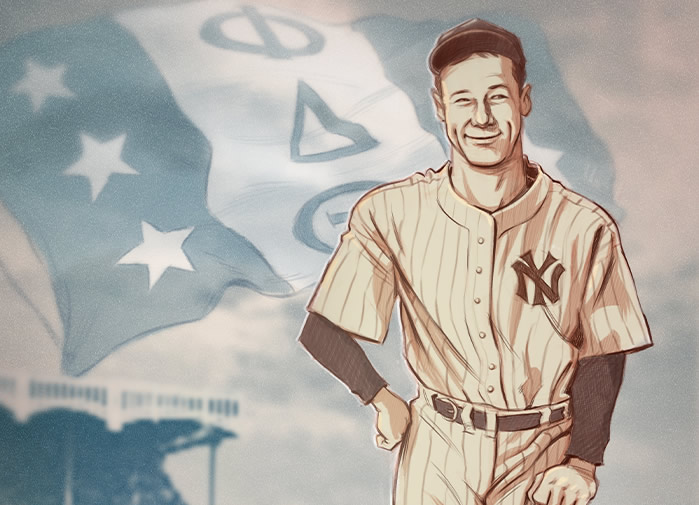 To strengthen the Phi Delta Theta International Fraternity and the impact it has on the fight against Lou Gehrig's disease through the fundraising and athletic efforts of its people.
About Iron Phi
Iron Phi was developed as a way to strengthen both Phi Delta Theta and its impact on the fight against Lou Gehrig's disease. Through the fundraising efforts of participants on the way to achieving personal athletic goals, Iron Phi is creating a community of philanthropists who hope to Leave ALS Better Than They Found It.

To become an Iron Phi, participants must select an athletic endeavor of their choice, raise $1,000 through the Iron Phi website, and accomplish the athletic endeavor itself.

Lou Gehrig was known as the "Iron Horse" during his baseball career because of his durability and perseverance. His prowess as a hitter, consecutive games-played record (2,130), and never-give-up attitude after being stricken with ALS inspired those around him. In the spirit of Brother Gehrig, the name Iron Phi was given to the initiative to encourage those involved to remembers Lou's approach to life when setting out to achieve something.
Who Can Become an Iron Phi?

Anyone can take on the Iron Phi challenge! Whether you are associated with Phi Delta Theta as an undergraduate or alumnus, consider yourself an ALS advocate, or have become a friend of the Fraternity, we welcome you with open arms!
About Lou Gehrig's Disease (ALS)

Amyotrophic lateral sclerosis (ALS), often referred to as "Lou Gehrig's Disease," is a progressive neurodegenerative disease that affects nerve cells in the brain and the spinal cord. Motor neurons reach from the brain to the spinal cord and from the spinal cord to the muscles throughout the body. The progressive degeneration of the motor neurons in ALS eventually leads to their death. When the motor neurons die, the ability of the brain to initiate and control muscle movement is lost. With voluntary muscle action progressively affected, patients in the later stages of the disease may become totally paralyzed.
---

---

What is Considered an Iron Phi Event?

Iron Phi events do not have to include running. All that we ask of your event is that it incorporates athletics or endurance in some way. We've seen many different types of events including:
Endurance Events


Running Events & Relays

Triathlons

Cycling Events

Swimming Events

Distance Walks

Walking Tours


Golf - Certain # of Holes in One Day

Kayaking
Be creative, have fun, and select an event that you will enjoy completing.