Welcome to Don Schenk's Iron Phi Page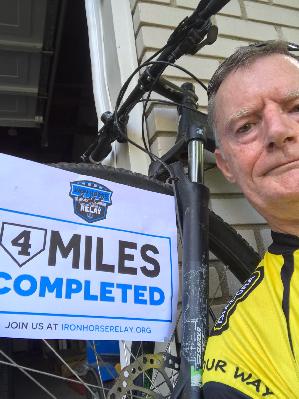 Superb Labor Day weekend. Total contributions over $6700 and raised target again, this time to $7000.00. Long haul of a ride on Labor Day along Clinton River and Michigan Orchard Trails for another 69.6 kilometers. Total distance traveled in this adventure is now 445.4 kilometers. 90% of the way to my 493 km goal. ROugh wether this week, so I'm glad I have a time buffer to get that last 10%.
____________________
Awesome friends and supporters are responding. Raised my target to $6500 after a late-night appeal on Thursday, 3 Sep 20, to those who had not responded. A couple of inadvertent double-taps resulted in $120 more than expected. True Rockstars!
As of 5 Sep I'm 78% complete the activity, with 11 days to complete about 105 kilometers. Between Sunday and Labor Day I'll knock most of that out.
Got permission from an ALS family our local alumni club adopted to post their picture and an explanation on a future Facebook post to really put a face on what I'm doing.
___________________________________
This has moved so quickly. Just last week I was under $3900 raised today I crossed $5000. I'm 62% thru the distance target and only slightly past 50% of my self-imposed 4-week challenge Good weather ahead looks like I'm going to make a big splash as I raise my goal yet again to $6000. Luckiest.
_____________________________________
LONGEST RIDE OF MY LIFE!
Monday (24 Aug 20) I rode from my house to Lake St. Clair Metropark and back...over 100 kilometers. Taking a well-deserved day (maybe two) off to recuperate. Next ride will be an easy 30 kilometers that will get me more than hlf-way to the 493 goal. Only $111.48 to hit $4000.00--Lou's number X 1000. Proud to be a Phi!
__________________________________________________________________________________________________________
NEW TARGET ANNOUNCED
Your generosity has been amazing--raised over $3600 in 5 days. New target of $$4260.00 just established.!
__________________________________________________________________________________________________________
BREAKING NEWS!
I beat the original fundraising target of $2130.00 in just 48 hours. Now I have increased it to $2632.00 in honor of another great major league ball player, Cal Ripken, Jr., and his record 2632 games played. Total distance (493 kilometers) and time (while I am still a young 70) remain unchanged.
Stay tuned for more.....
____________________________________________________________________________________________________________
I have set a personal goal to become an Iron Phi--a fitness and philanthropy distinction given to a small percentage of members and friends of Phi Delta Theta Fraternity. My objective is to bicycle 493 kilometers and raise $2,130.00 and become an Iron Phi. Why $2,130.00? THat's how many consecutive games Lou Gehrig played and the reason he was referred to as "The Iron Horse." Why 493? That's how many careeer home runs Brother Lou Gehrig had. To make it more meaningful, I am committing to get that done before my birthday in just 30 days!
The mission of Iron Phi is to strengthen the Phi Delta Theta International Fraternity while making a big impact in the fight against Lou Gehrig's disease by joining with other members in their fundraising and athletic efforts. Lou Gehrig, "The Pride of the Yankees," was a member of Phi Delta Theta, and our organization has taken an active role in finding a cure.

The net proceeds will support ALS (Amyotrophic Lateral Sclerosis, commonly called "Lou Gehrig's disease") research, education, screening and treatment. It will also help strengthen an organization (Phi Delta Theta) that has had a lasting impact on my life.

For my personal goal, I will be bicycling 493 kilometers through Southeast Michigan (where I currently reside) and anywhere else I care to take my 21-speed bike. Please, share the road!
Here are some important facts about ALS:
-- Approximately 5,600 people in the U.S. are diagnosed with ALS each year. That diagnosis is a death sentence.
-- ALS is a progressive neurodegenerative disease that affects nerve cells in the brain and the spinal cord.
-- Degeneration of the motor neurons eventually causes the body to stop functioning leading to the death in 2-3 years.
-- Families of those who contract the disease suffer with their loved ones both financially and through the missed opportunity.
I have dedicated the next several months to becoming an Iron Phi, and to do something bold about Lou Gehrig's disease.
I've set my personal goal at $1000.00, so I'm asking for your assistance in this righteous cause. Would you please donate an amount that honors Lou, who considered himself "the luckiest man on the face of the earth?" Any amount is appreciated, but consider an amount that memorializes his accomplishments through any of the following giving levels:
-- $21.30 in honor of his 2130 Consecutive Games Played
-- $23.00 or $1.00 for each of his 23 Grand Slam Home Runs
-- $34.00 in honor of his 340 Career Batting Average
-- $7.00 becausw he was a 7-time All Star
-- $4.00 for the number 4 he wore as a Yankee
-- $4.93, $49.30 or $493.00 for his life time accomplishment of 493 Home Runs my personal favorite.
Donations by US residents are tax-deducitble. You can make a donation on this page by clicking on the "Make a Gift" link below the thermometer. You can also send a check made out to "Iron Phi" and mail to me at the address below so I can forward it if you'd rather donate that way.
I hope that you'll share this incredible adventure with me--by supporting me and so many others in eradicating this disease..

Thank you in advance for your generosity!

Sincerely,
Don Schenk
6975 Cathedral Drive
Bloomfield Hills, Michigan 48301
View More
My Donors
Phi Delta Theta Alumni Club of Metro Detroit Phi Delta Theta Alumni Club of Metro Detroit
United Jewish Foundation of Metropolitan Detroit
Mr. Ronald Richard Freeman
MD Beta #619 & Iron Phi #375
Cliff Hodge & Sheryl Wragg
Mr. John Charles Graber Jr.
How Does My Donation Make a Difference?
Your donation towards an Iron Phi athlete equally supports two very important things: Supporting ALS (Lou Gehrig's disease) through research and support of ALS families and leadership development for undergraduate members of Phi Delta Theta Fraternity.
At the end of each year calendar year, the LiveLikeLou Foundation grants dollars raised through Iron Phi to fund its initiatives that support ALS research, scholarships to support the higher education goals of ALS dependents, and summer camp experiences for children who have a parent or grandparent with ALS.
Dollars used for undergraduate leadership development have and continue to help Phi Delta Theta educate more of its undergraduate members as they work to "Become the Greatest Version of Themselves."